---
News Archive: February 2004
---
No Oscar night for Madonna
Posted: 29 February 2004 - From Toronto Star - thanks to gurgarko

Madonna told People mag that she won't be watching in TV the 2004 Oscars' night. 'I'm not interested in watching TV with a group of people and criticizing what people wear,' she huffed.
---
Madonna's not so true blue
Posted: 29 February 2004 - From the Sunday Mail - thanks to DrownedMadonna

Madonna's a multi-millionaire who claimed in song to be True Blue.
And her mum-in-law will be throwing her weight behind Tory Sir Malcolm Rifkind's bid to return to Westminster. But American Madge won't be digging deep to help the Scots former Foreign Secretary's comeback.
Shireen Ritchie, stepmother of the pop queen's film director husband Guy Ritchie, is chairwoman of the Kensington and Chelsea Tories, who last week chose Rifkind as their candidate. The exclusive area of London is a rock-solid Tory seat.
But Shireen and her husband John admitted Madonna and Guy won't be starring at any constituency fundraisers.
Former advertising executive John said: 'They have just packed off to New York and they have no dealings with party politics in this country at all.'
'They certainly wouldn't be in a fund-raising situation.'
---
Now fans petition for Madonna to visit Scandinavia
Posted: 29 February 2004

A petition for Madonna to visit Scandinavia on her tour has also been started by fans - to sign this petition click here.
---
Fans petition for Madonna to visit Australia
Posted: 28 February 2004

An online petition has been started for fans to show that they want Madonna to visit Australia on her new world tour. Even Australian branches of music store HMV have been handing out flyers encouraging people to sign the petition

As one fan said: We waited 10 years to see her the first time, it's now been another 11 years!

To sign the petition click here.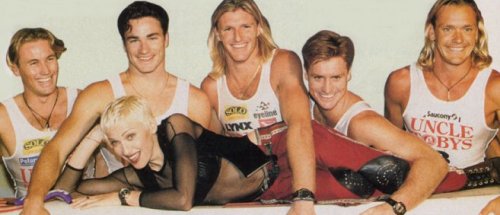 There is also a petition for Madonna to visit Scandinavia - to sign this petition click
---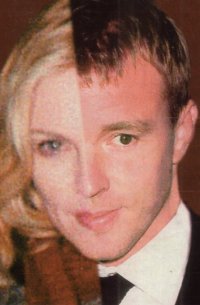 The Look Of Love
Posted: 27 February 2004 - From hot stars magazine

Suzi Malin, author of Love At First Sight (Dorling Kindersley, £12.99) believes that decoding the facial features of two people can help explain the mystery of falling in love.
Suzi, a portrait painter has spent years studying facial features and divides the physical connections between couples into three types of of visual compatibility: Echoism, Harmonism and Prima Copulism.
Echoism is a basic similarity between two people, who respond to an 'echo' of their own face. Harmonism occurs when two people's faces have near identical proportions, while Prima Copula couples don't share any likeness, but one is drawn to the other as they are subconsciously reminded of their first love - their mother or father.

Here is her intrepretion of Madonna and Guy:
Madonna and Guy have Harmonism and Echoism. The Harmonism means they have the same underlying skull shape, and great symmetry: the same distance between their forehead and the bridge of their nose.
They also have strong chins, which means neither of them is more dominant than the other. There's a small degree of Echoism when they smile, in the shape of the mouth.

---
LA Dance Auditions are complete
Posted: 26 February 2004

The Los Angeles dance auditions for the (as yet to be announced) world tour are now complete - the successful dancers will be notified tomorrow and rehearsals will begin on Monday 08 March.

Hopefully an official announcement of the tour will follow shortly from Madonna's management team.
---
No re-release for Justify My Love
Posted: 26 February 2004 - From the Metro

The Green Room gossip column in today's Metro newspaper says that even though Justify My Love was recently voted the sexiest song of all-time, Madonna has vetoed a re-release of the single saying it would be a step backward musically.
---
Site News: Latest Downloads
Posted: 26 February 2004

Two new video clips have been added to the Downloads section - they are Madonna's performance of Little Star and Ray Of Light on The Oprah Winfrey Show from 1998.
---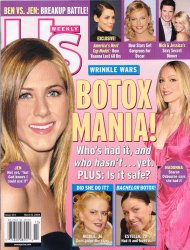 Liz bites back at botox claims
Posted: 25 February 2004 - Thanks to Tony

After Sharon Osbourne made the claim that Madonna has had Botox on her forehead arguing 'there's not one line on that bloody head!' Liz Rosenberg has responded in the 08 March 2004 issue of Us Weekly, which also features Madonna on the cover.
'Sorry to disappoint Mrs. Osbourne, but Madonna has not had her face altered by plastic surgery or Botox. Madonna is radiantly happy in her life and glows with joy. It's that simple. Who wouldn't be aglow being with Guy Ritchie on a daily basis?'

---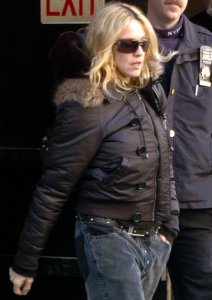 Madonna at NYC Auditions - Updated With HQ Picture
Posted: 25 February 2004

Here is a picture of Madonna leaving the S.I.R Rehearsal Studios in New York after the auditions on Sunday.

You can download a HQ version full-length version of this picture by clicking on the image.

---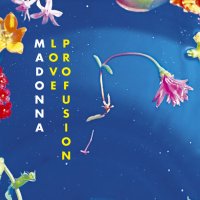 US Love Profusion details
Posted: 25 February 2004 - From madonna.com

The street date for the CD Maxi is 3/16 and the 12" vinyl Maxi street date is 3/23. The CD Maxi will include an Estee Lauder Love Profusion scented blow in as a marketing tie in from the commercial in the US and key European markets. We will not have a sticker that mentions this so it will simply be a extra when you buy the CD maxi and open it.

---
Los Angeles Dance Auditions
Posted: 24 February 2004

Professional dance site Answers4Dancers has now placed a call for dancers to audition in Los Angeles tomorrow - 25 February. The call backs with the successful LA dancers and the 15 dancers selected from the NYC auditions will take place on Thursday 26 February and dancers will be notified on Friday 27 February.

The advert points to some more clues about the tour:

Dancers are only required to travel in the United States and Europe - this suggests that the tour will not be visiting any other continents.

Dancers are required from 08 March (when rehearsals start) to 15 September - which now gives us a final date for the tour, and this suugests the tour may follow a similar schedule to the Drowned World Tour.
---
Site News: Latest Picture Uploads
Posted: 23 February 2004

80 pictures have been uploaded to the Galleries - view these latest uploads here.
---
Madonna is the 4th highest UK single-selling artist
Posted: 23 February 2004

Channel 4 TV program The Ultimate Pop Star broadcast last night in the UK and it named Madonna as the 4th highest single selling artist of all time in the UK.

Madonna has sold a staggering 14,562,856 singles and was only beaten by Elvis who came 3rd with 19,293,118 singles, The Beatles who came 2nd with 20,799,632 and Cliff Richard who came 1st with 20,969,006 singles sold.
---
NYC Auditions have just finished
Posted: 22 February 2004 - *EXCLUSIVE* Thanks to Howie

The NYC audition call backs have just finished - 9 guys and 6 girls made it through and will be flown to Los Angeles for the final auditions on Thursday, and on Friday the dancers will know the results.
---
NYC Audition Pictures
Posted: 22 February 2004 - *EXCLUSIVE* Thanks to Jeff

Here are pictures of the female dancers lining up for Madonna's tour auditions in New York yesterday. Thanks to Jeff for the pictures.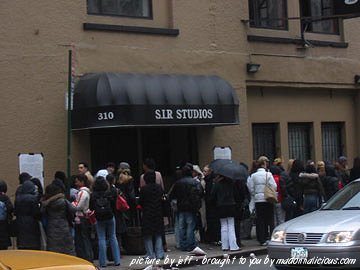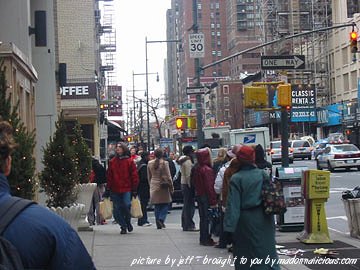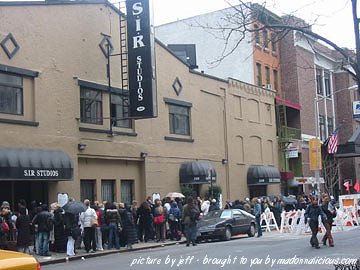 ---
Madonna and Guy to attend Cheeky premiere
Posted: 22 February 2004 - From Liz Smith - Thanks to gurgarko

Monday night in Hollywood, Lili and Richard Zanuck roll out their own red carpet for Trudie Styler's movie 'Cheeky.' This effort is from the producer-director-actress-environmentalist wife of Sting.
The film follows a toy shop owner whose life is altered dramatically by the death of his wife. (Trudie is behind and in front of the cameras.) The guest list is hot - Antonio Banderas and Melanie Griffith, Robert Downey Jr., Courtney Cox and David Arquette, Dustin Hoffman, and Madonna and Guy Ritchie. So many acceptances came in that the hosts have had to arrange a second screening.
---
More audition and call back details
Posted: 22 February 2004 - Thanks to Dana and Howie

Around 500 girls turned up for the female dance auditions at 2pm yesterday in New York.

Around 30 female and 40 male dancers were selected for the call backs today.

Caresse Henry was present at the auditions, but when questioned she would not give away any tour details.

The auditions were videotaped - either for Madonna to watch or for a documentary.

Hollywood is going to be a big number on the tour - the dancers were auditioning to the Thin White Duck remix and a previously unheard remix which had a latin feel to it. The dancers were using top hats and canes in the dance routine for Hollywood.

There was hip hop, breakdancing, free style choreography - this tour is going to feature a lot of dance.

Today's call backs are more about personalities - the final few selected in New York will then compete in Los Angeles in a week.
---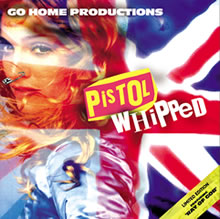 Pistol Whipped EP release
Posted: 21 February 2004 - First Look thanks to Philippe

Go Home Productions 'Pistol Whipped' EP is released on March 1st through Half Inch Recordings.
Available on Limited Edition 12" white vinyl and featuring 5 mashed-up Sex Pistols tracks.
Including the Madonna/Sex Pistols mash-up Ray Of Gob (Radio Edit 2004) and Ray Of Gob (Extended).

For more details visit Go Home Productions

---
NYC Audition Details
Posted: 21 February 2004 - Thanks to jul2002

About 160 male dancers turned up for the 10am audition this morning in New York.
The dancers were asked to dance to the Thin White Duck Mix of Hollywood.
Madonna was not at the auditions but creative director Jamie King was.
It was stated that dancers should be available for rehearsals from 01 March and that a tour would run from June till September.
---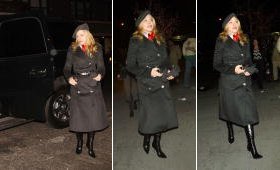 Madonna in New York
Posted: 21 February 2004 - From Getty Images

Here are the latest pictures of Madonna which were taken in New York yesterday.

Click on the image for a larger version.

---
Madonna on UK TV this weekend
Posted: 20 February 2004

UK viewers can catch Madonna in Body Of Evidence on BBC1 at 11.10pm on Sunday 22 February - unfortunately this clashes with Madonna's other TV appearance this weekend in The Ultimate Pop Star on Channel 4 at 9.00pm on Sunday 22 February.
---
Guy adapts to playground role
Posted: 20 February 2004 - From the Evening Standard

Guy Ritchie may have hoped to boost his career when he started to spend more time in America.
But as these pictures show, the 35-year-old British director, who is commonly referred to as Mr Madonna, can still find the time to play his most important role.
The man behind the hit film Lock, Stock And Two Smoking Barrels is still trying to recover from the £4million flop that was his collaboration with Madonna in the film Swept Away. But as these pictures show, he still has time to get away from it all. He was spotted during a playful workout with his son Rocco in Central Park, New York. Ritchie did his morning exercise on a slide in the park with the toddler and then, wearing a peaked cap, jeans and a bomber jacket Ritchie pushed three-year-old Rocco up and down a slide.
Rocco, who was wrapped up in a woolly hat, a winter coat with fur collar and jeans, looked to be having a great time with his father. Worn out, he was carried home on his shoulders.
The family have two homes in Britain - one in London and one in Wiltshire - but now spend a large part of their time in America, where Madonna prefers the weather.

To see the picture of Guy and Rocco, click here.
---
Confirmed: Yakov delayed, Lotsa next release
Posted: 19 February 2004 *EXCLUSIVE*

It has now been confirmed by the publishers that the release date of Yakov and the Seven Thieves - originally April 2004 - has now been delayed simply due to a scheduling decision.

Madonna's next childrens book will be Lotsa de Casha and will released on 08 June 2004.

Arrangements for Madonna to do a book reading at a UK school are in the process of being finalised.
---
NYC Dance Audition Details
Posted: 19 February 2004 - From MTV.com

Auditions will be held at S.I.R. Rehearsal Studios, 310 West 52nd Street in New York City on Saturday 21 February at 10 a.m. for male dancers, and at 2:30 p.m. for female dancers. Callbacks will be held on Sunday.
---
Audition calls go out for tour dancers!
Posted: 18 February 2004 - Thanks to DrownedMadonna and gurgarko

Professional Dance site Answers4Dancers has posted a call for dancers to audition for Madonna's tour! This is the clearest sign so far that Madonna will be touring this year - and inside sources have already reported to Madonnalicious that a tour is definitely going to happen this year.

MADONNA WORLD TOUR AUDITIONS! / NYC
Looking for individuals, strong & versatile dancers. Choreography will be unpredictable...anything goes! Dancers should be prepared with everything from knee pads to different shoes...costume changes optional!
Should be comfortable doing most any style of choreography in whatever they choose to wear while still showing their unique personality. Dancers will be asked to showcase their own freestyle in addition to learning the choreography (Looking to see anything from acrobatics, breaking, popping, locking to ballet, reeling, riverdancing & tango). *Dancers MUST be willing to cut or change hair drastically.
Rehearsals begin in March in Los Angeles, tour begins in May. Professional pay. Details are now available to all active A4D Members on the East Coast Audition page and a Member Alert will be forthcoming!
PLEASE NOTE! Los Angeles auditions are set tentatively for February 25 - 27... Details as A4D gets them!
---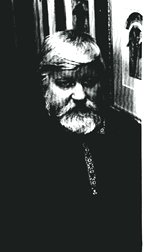 Yakov and the Seven Thieves illustrator revealed
Posted: 17 February 2004 *EXCLUSIVE*

The illustrator for Yakov and the Seven Thieves is Gennady Spirin from Russia.
Gennady Spirin was born in the small town of Orekhove-Zuyevo, near Moscow, on December 25, 1948. His artistic talent was identified at an early age. He graduated from Surikov School of Fine Art at the Academy of Arts in Moscow and Moscow Stroganov Institute of Art. Over the years he developed his own unique style, combining traditional Russian contemporary art technique with the great traditions of the Renaissance.
You can find more out about the artist here.

---
Madonna trance 'made me attack'
Posted: 17 February 2004 - From the metro

A story to be filed under the strange but true category....

A mother who drunkenly attacked two security guards tried to blame a hyponotist who had earlier told her to act like Madonna, a court heard yesterday.
Helen Omar was arrested on the last night of a family holiday at a Pontin's holiday centre two hours after taking part in Adam Night's cabaret show. Mrs Omar volunteered to be put into a trance and then entertained the audience as Mr Night invited her to 'dance like Madonna' and act like she was riding a horse.
Several hours after coming out of the trance Omar became hysterical, the court was told. Her partner tried to restrain her and two security guards investigated. Omar shouted abuse at the men before kicking one in the groin and the other in the shins.
She continued shouting abuse on the way from teh camp in Ainsdale, Merseyside, to a police station. Omar, who admitted the assaults and being drunk and disorderly, suffered health problems, said Michael Braham, defending. 'She had a history of depression but felt it was safe to take part in the show,' he said.
Omar recalled little of the rest of the night and may have suffered hypnotic amnesia, he added. Southport magistrates ordered Omar, to pay both guards £100 compensation and also imposed a curfew.
Mr Night earlier said later Omar's attack had nothing to do with his show.
---
Site News: Latest Picture Uploads
Posted: 16 February 2004

80 pictures have been uploaded to the Galleries - view these latest uploads here.
---
HQ Scans of the Nobody Knows Me book
Posted: 15 February 2004

Madonnalicious brings you high quality scans of the previously unseen pictures from the Nobody Knows Me book.

You can find the 16 scans in the 2004 Gallery

---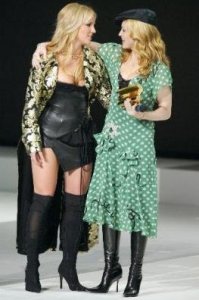 Analyse this....
Posted: 15 February 2004 - From New magazine

Body language expert, Dr Glenn Wilson, analysed Madonna and Britney's on-stage interaction at the recent NRJ Awards in Cannes, when Britney presented an award to Madonna:

'The friendship looks genuine,' says Gr Glenn, 'Madonna has an open smile and her arm around Britney looks motherly. But Britney seems awkward. She looks very much in awe of Madonna - there's an obvious power imbalance.'
Maybe she's worried about what Madonna thinks of her quickie wedding. 'Or she might not be happy with the way she is dressed,' suggests Dr Glenn.

---
Madonna's sexy song tops passion chart
Posted: 13 February 2004 - Thanks to Anna

Saucy pop star Madonna's Justify My Love has been voted the top tune for a night of passion.
The sexy track beat the likes of Marvin Gaye's (Sexual) Healing in the poll of 'top songs to get it on to' in celebration of Valentine's Day in a poll by music channel VH1.
A panel of experts chose Justify My Love as their number one, a hit for Madonna in 1990 with its raunchy lyrics.
Marvin Gaye's classic came second in the poll, followed by Prince hit Gett Off.
Britney Spears was next with I'm A Slave 4 U and INXS were fifth with Need You Tonight.
---
MADONNAinter.net back online
Posted: 13 February 2004

For those of you who have missed getting your fix of Madonna downloads you will be pleased to know that MADONNAinter.net is back online after a short break.
---
Sharon finishes off Madonna's chocolate
Posted: 12 February 2004 - From contactmusic.com - thanks to gurgarko

Sharon Osbourne was so desperate for a decent dressing room at Sunday's Grammy Awards, she sneaked in to use Madonna's - and ate all of her chocolates.
Sharon, who attended the Los Angeles ceremony with her husband Ozzy and daughter Kelly, was upset to find that hosting sports arena the Staples Centre didn't have adequate changing facilities with mirrors and bathrooms - so she took advantage of the Music singer's provided luxuries.
She says, 'There's so many artists there that are a part of this huge event that there's never enough dressing rooms.'
'We were desperately trying to find one with a mirror, so I waited for Madonna to leave and I went and grabbed her dressing room. And of course she didn't eat any of her chocolate - and I did! Everything she left, I took!'
---
Grammy Awards US TV coverage to download
Posted: 11 February 2004 - Video captured by Jamesy

You can now download Access Hollywood and The Tonight Show With Jay Leno shows video clips of Madonna and Guy on the Grammy Awards Red carpet.
Madonna gives her reaction to Janet's Superbowl wardrobe malfunction and also sings a rendition of Truely Scrumptious from the musical Chitty Chitty Bang Bang! which the Ritchie family saw last month in London.

You can download a 22Mb MPG version here (right click and save target as)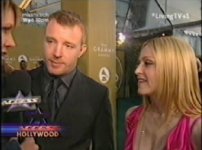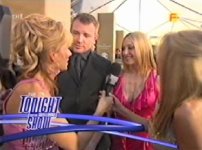 ---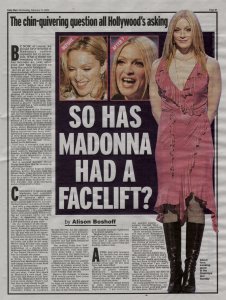 Like A Surgeon
Posted: 11 February 2004

UK newspaper The Daily Mail published a full page story today questioning whether Madonna has had plastic surgery because there is no way she can look that good without it!

To read the full story visit here (link fixed now).

---
Ladies who lunch
Posted: 10 February 2004 - From Closer magazine

Best buddies Madonna, Gwyneth Paltrow and Stella McCartney enjoyed a leisurely lunch last week at oriental restaurant e&o in Notting Hill, London.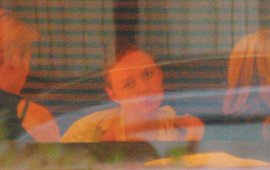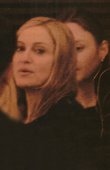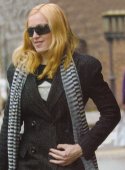 ---
Site News: Latest Picture Uploads
Posted: 09 February 2004

80 pictures have been uploaded to the Galleries - view these latest uploads here.
---
LA Times - House Of The Week
Posted: 09 February 2004 - Thanks to Stephanie

Madonna's Beverley Hills mansion is featured in the Los Angeles Times Real Estate Section as it's House Of The Week.
She bought the Walter Neff designed house from actress Diane Keaton about four years ago and it is now on the market for $9.9 million.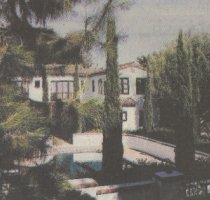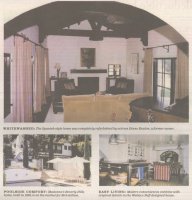 ---
Madonna parties with Missy
Posted: 09 February 2004 - Thanks to Floris

Madonna and Guy attended the Warner Brothers Grammy Awards After Show party - pictured here is Madonna and Missy Elliott.

---
Lady Madonna: Flawless
Posted: 09 February 2004 - From Style.com - By Dirk Standen

The Grammys are the awards show where red-carpet glamour and rock-'n'-roll edge collide — with results that might politely be described as 'wardrobe malfunction.' Can't decide whether to pull on jeans or a Roberto Cavalli dress? Hey, why not wear both!
Fortunately, some stars decided not to overdo things. Madonna tried a new reincarnation this year: flawless, in a hot-pink silk-satin Versace slip dress that should have silenced even her harshest fashion critics for a few hours.
Beyoncé won the night's 'most dressed' award, running through several outfits for her numerous stage appearances, though only the fuchsia feather-trimmed mini she sported for her opening duet with Prince had the proper pop appeal.
Mary J. Blige, meanwhile, demonstrated exactly how an R&B diva should look. Yet not even her neon-yellow marabou Gucci jacket could snag the prize for biggest fashion moment of the evening; that distinction belonged to the $700 Y-3 sneakers that came in the goody bag.
---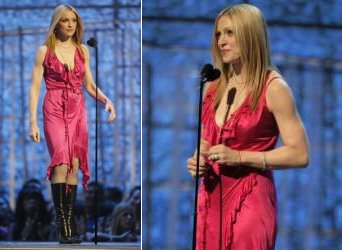 Madonna at the Grammys
Posted: 09 February 2004 - From Associated Press

Madonna introduced a performance by Sting and Sean Paul during the 46th Annual Grammy Awards last night in Los Angeles.

To download a video of her introduction visit the Videos By Other Artist section of www.shakiramedia.com

---
Madonna and Guy arrive at the Grammy Awards
Posted: 09 February 2004 - From Wire Image

Here are Madonna and Guy arriving on the Heineken Green Carpet at the 46th Grammy Awards in Los Angeles.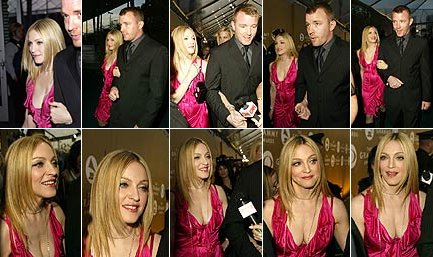 ---
US Love Profusion debut details
Posted: 08 February 2004 - From madonna.com

Love Profusion will debut on AOL's First View on Feb 11. After that, the video will then be streamed on yahoo, msn, windowsmedia, apple, mtv.com, vh1.com, ifilm, and Madonna.com.
---
Madonna Honours Sting
Posted: 08 February 2004 - From Canadian Press - thanks to DrownedMadonna

Dozens of celebrities convened Friday to honour Sting at the annual MusiCares bash.
That meant yet another red carpet during a party-filled Grammy week.
A fashionably late Sarah McLachlan arrived as the media-lined walkway outside a sound stage at Sony Studios was closing.
Dustin Hoffman, Bob Geldof, Mary J. Blige and Tony Bennett rushed past the media throng, pausing only for a few pictures. Big-name guests like Madonna and Elton John entered through a different door to avoid the the flashbulbs.
But plenty of other stars paused long enough to gush about Sting and their favourites among his string of smash hits.
Antonio Banderas seductively sang 'De Do Do Do, De Da Da Da' into wife Melanie Griffith's ear.
John Mayer and Herbie Hancock went with the popular 'Every Breath You Take,' while Hoffman said he preferred 'Englishman in New York.' Rob Thomas of Matchbox 20 said the ballad 'Fragile' was his pick.
About 2,000 guests gathered for a dinner, silent auction and concert in Sting's honour.
Performances included The Black Eyed Peas with 'Walking on the Moon' and French singer Charles Aznavour with Herbie Hancock doing 'Moon Over Bourbon Street.' Rufus Wainwright, who has opened for Sting several times, was to perform 'King of Pain.'
Diana Krall, her new husband Elvis Costello, k.d. Lang, Dido, Elton John, and Dave Matthews were also to serenade Sting with covers of his songs. They didn't walk the red carpet.
Grammy-nominee Kylie Monogue turned lots of heads in an elegant black Channel gown.
Rushing past reporters with wife Trudie in tow, Sting was all smiles.
'I'm extremely happy,' he shouted to the press corps. 'Am I worthy? Probably not.'
---
Madonna Producer to Oversee New Springer Album
Posted: 06 February 2004 - From Playbill.com - thanks to Pete

Buzz is growing about the planned new recording of Jerry Springer — The Opera, as Marius de Vries has now signed as the album's producer.
De Vries, who received acclaim for the London cast CD of Bombay Dreams, is one of the best-known producers. He's received multi Grammy nominations for Madonna's 'Ray Of Light' album, Baz Luhrmann's 'Moulin Rouge' and Robbie Robertson's 'Contact From the Underworld of Redboy' and has worked with top acts including Annie Lennox, Bjork, David Bowie, David Gray, Massive Attack, Neil Finn and U2.
In contrast to the live and complete London cast album, the new CD will feature a variety of famous singers in songs from the show (presumably re imagined, since the operatic, through-sung format doesn't easily lend itself to excerpts).
Although the show's representatives won't divulge any specific names, one said, 'We are hoping that Marius will bring in some of the people he has worked with in the past.'
---
Handwritten Deeper and Deeper video ideas
Posted: 05 February 2004

If you have $3,200 to spare you can buy Madonna's handwritten ideas (on two pages of 5"x8" paper) for the video of the song Deeper and Deeper.

You can view all the details on the internet auction site ebay.com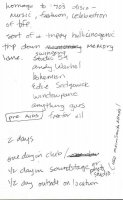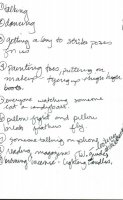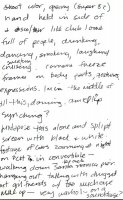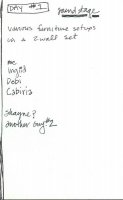 ---
Grammys Pre-Show on VH1
Posted: 05 February 2004

VH1 is the place to look out for Madonna on the red-carpet as she makes her entrance at the Grammy Awards on Sunday. For more information click here.

Whether we're talking Grammys, Oscars or VMAs, everyone knows the pre-show is just as important as the actual awards presentations. It's where the stars make their grand entrances on the red carpet and get show off their outfits and latest loves.
Join us for our Grammys pre-show on February 8th, 7PM ET. We'll hit the red carpet, look back on past Grammy shows and get a taste of what we can expect from this year's show.
Grammys Pre-Show on VH1 February 8th, 7PM ET/PT. Tune in! Then watch the Grammy Awards show on CBS at 8PM ET/PT.
---
Madonna gets left out in the cold
Posted: 04 February 2004 - From heat magazine

After visiting her local beauty salon in London on 23 January, Madonna expected to find her chauffeur waiting outside in her car to take her home. But when she stepped outside to the car, the man in question was nowhere to be seen.
Several irate phone calls - and five minutes later - the sheepish-looking fellow emerged from a nearby shop, apologised profusely to his ever-so-slightly famous client and dutifully ferried a clearly peeved Madonna home.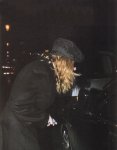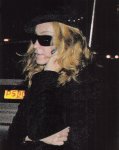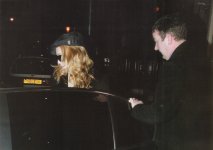 ---
Madonna to attend the Grammy Awards
Posted: 04 February 2004 - Thanks to Floris

In a move echoing last year's successful Grammy telecast in New York City, celebrated personalities from music, film and television will introduce performances on the 46th Annual Grammy Awards, to be held Feb. 8 at Staples Center in Los Angeles. The show will again be broadcast on CBS at 8 p.m., supported on radio via Westwood One worldwide and covered online at Grammy.com.
Personalities confirmed to introduce the 18 performances on the show include actor Jack Black, talk show host/comedian Ellen DeGeneres, Grammy-winning artist and Oscar-nominated actress Queen Latifah, five-time Grammy-winner Madonna (currently nominated for Best Short Form Music Video and Best Dance Recording for 'Die Another Day') and Golden Globe-winning actress Sarah Jessica Parker.
Previously announced performances include Christina Aguilera, Beyoncé, the Black Eyed Peas, Jackson Browne, George Clinton and Parliament Funkadelic, Chick Corea, Celine Dion, Earth, Wind & Fire, the Foo Fighters, Vince Gill, Emmylou Harris, Alicia Keys, Richard Marx, Dave Matthews, Martina McBride, OutKast, Prince, Robert Randolph & the Family Band, Justin Timberlake, the Eagles' Timothy B. Schmit, Sting and Sean Paul, Billy Bob Thornton, Pharrell Williams, the White Stripes and Dwight Yoakam.
---
Nobody knows Me - A look at the book
Posted: 03 February 2004 - Pictures by Jeremy Valarezo

You can now view photographs of ALL the pages of the limited edition book/magazine Nobody Knows Me which is now being shipped. The book was only available for order for a short time and is now not available to buy - it will not be on sale in the shops.

For those fans who don't mind spoiling the surprise - you can see the pictures here.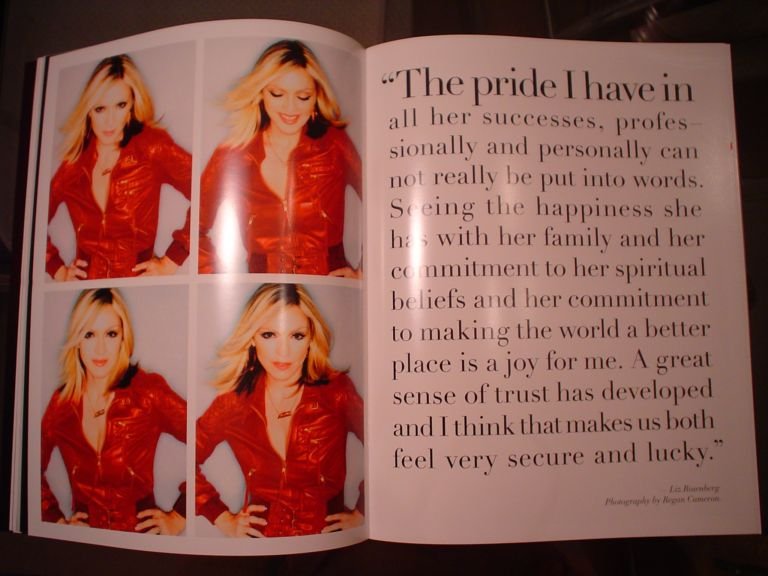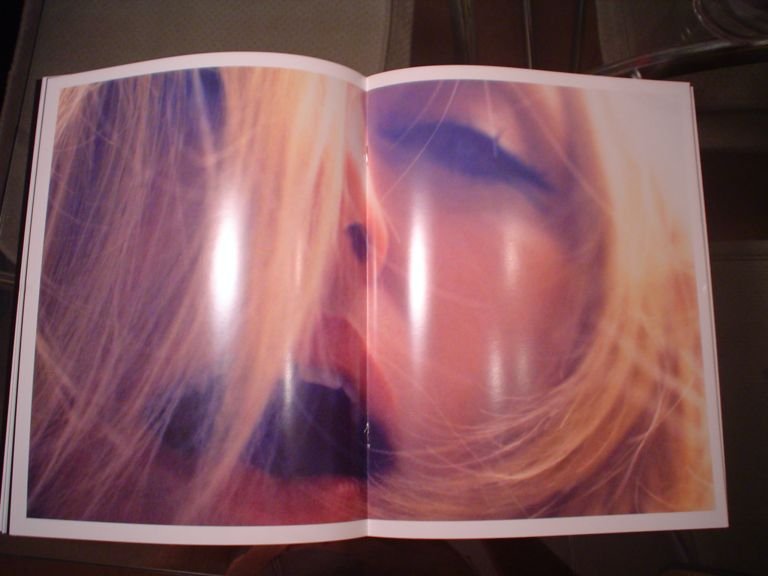 ---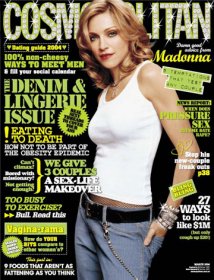 Get some damn good advice from Madonna!
Posted: 03 February 2004 - Thanks to tyrone25

The March 2004 issue of Cosmopolitan magazine (Australian edition) features Madonna on the cover and a four-page article inside giving life advice to young women - featuring old quotes and pictures.

---
Site News: Latest Picture Uploads
Posted: 02 February 2004

80 pictures have been uploaded to the Galleries - you can view these latest uploads here.
---
GQ defends American Life
Posted: 02 February 2004 - Thanks to Queen Bitch

This month's issue of the US edition of GQ magazine presents a year end commentary. In the Essentials section they feature Madonna's American Life.

I'ts really easy to say Madonna's new music stinks. 'Madonna's new music stinks!'. See-easy! It's much harder to ignore the pervasive, knee-jerk criticism(not to mention dismal sales) of her latest album, American Life, and give it a serious relisten.
Sure, it currently resides on several music critics' year-end worst albums list. But aside from it's dumb-ass Madonna-as-che cover art-and the equally dumb-ass rap she does on the title track- it's actually quite a good record that nearly everyone missed because they were gleefully backlashing Ms. Ciccone.
To be fair, American Life's secret weapon isn't Madonna herself but her producer, Frenchman Mirwais Ahmadzai. Mirwais' dense, space-agey sound is sometimes a little cold and impersonal-he makes dance music Kubrick would have loved- but it's still good. And it's a nice break from all that top 40Timbaland/Neptunes rat-a-tat-tat that's starting to sound really repetitive. And now you can listen to DJ's producers and other folks interpret Madonna's(and Mirwais's) work on the new American Life Renixed and Revisited.
Take her home in a brown paper bag, play her behind drawn shades, enjoy!
---
First look at Nobody Knows Me book
Posted: 01 February 2004 - Thanks to Jeremy for the pictures

The Nobody Knows Me book has finally been shipped and here is a first look.
The introduction from Madonna goes like this:
Everytime I reach a new peak, I see a new one I want to climb. It's like I can't stop. Maybe I should rest and admire the view, but I' can't. I've got to keep on pushing. I want to rule the world. Why? I don't know. I don't know what motivates me, I just know I've got to do it.

---