---
News Archive: July 2003
---
Site News: Latest Picture Uploads
Posted: 31 July 2003

112 pictures have been uploaded to the Galleries - you can view these latest uploads here.
---
GAP CD Cover Art
Posted: 30 July 2003

Here is the cover art of the GAP promotional CD featuring Madonna and Missy Elliott's Into The Hollywood Groove. Thanks for the scan from La2Sa.com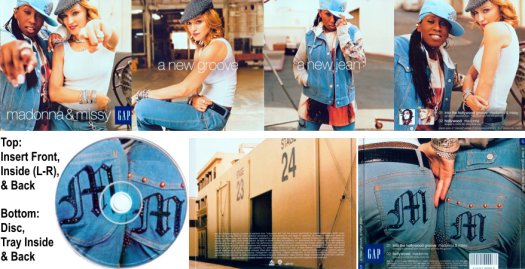 ---
HMV Oxford Street Audio
Posted: 30 July 2003

You now have another chance to download the Madonnalicious exclusive audio files from the HMV Oxford Street, London concert.

The files will be online till 01 August here.
---
Advert and Movie News
Posted: 29 July 2003

The Estee Lauder advert using Love Profusion is slated to be directed by famed French director Luc Besson - the man behind such films as Nikita, Leon and The Fifth Element.

The Old Mistress a film Madonna is linked with, will be directed by controversial french female director Catherine Breillat and produced by Fine Line Features.
This film is set in the 18th century, and features a poor, yet charming scoundrel who becomes romantically involved with a young heiress, but things get messy when this rogue's past comes back to haunt him as his former mistress comes into the love triangle.
---

GAP Video Captures and Avatars
Posted: 29 July 2003

You can view 35 video captures from the GAP commercial in the 2003 Gallery.

There are also 20 GAP animated avatars for you to choose from here.

---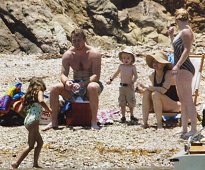 A day at the beach
Posted: 29 July 2003

The new issue of heat magazine features two pictures of Madonna and family at Catalina Beach, California on 20 July 2003.

---
GAP advert - Director's Cut
Posted: 29 July 2003

In the USA last night, VH1 premiered the Director's Cut of the GAP commercial.

Here are some screen captures from the advert.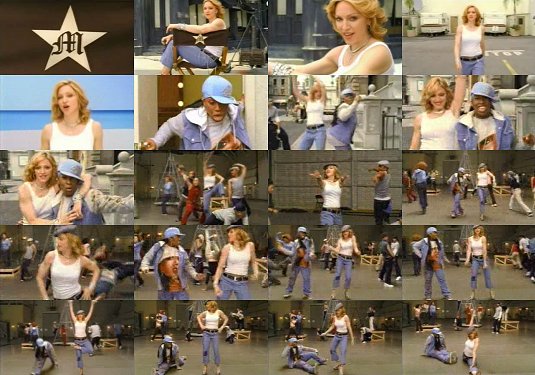 ---

Download the GAP audio
Posted: 28 July 2003

You can download a 30-second audio clip of the Madonna and Missy Elliott Into The Hollywood Groove GAP advert HERE.

Right click and Save Target As - thanks to LATHAMRHUNE.

---
When Missy Met Madonna
Posted: 27 July 2003

The GAP campaign has scored it's first magazine cover in the UK. The Sunday Times Style magazine features Madonna and Missy Elliott on the cover and a four-page article inside.
You can read the article on how the campaign was shot here.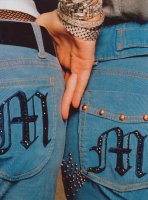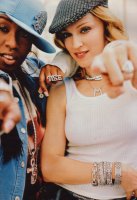 ---
Now Mad's An Old Mistress
Posted: 27 July 2003

From the Sunday Mirror:
HRH Madge hasn't slung in the towel just yet on her Hollywood career. Despite Swept Away, she will go before the cameras in a bodice-ripper entitled 'The Old Mistress', .
First up, she producing the film 'She Rocks', starring Amanda Peet as a music journalist who falls for a rock superstar.
Madonna's representative, Caresse Henry says:'Madonna loved the script and is very fond of Amanda's work.'
---
Gap Advert - TV Schedule
Posted: 25 July 2003

From Gap.com:
Tune in to VH1 on Monday to get a first look. On Monday July 28, you'll finally get to see what all the buzz is about: A special director's cut of Gap's fall TV campaign starring the divine Ms. 'M's - Madonna and Missy Elliott - premieres exclusively on VH1 at 8 p.m. The spot will air between two 'Driven' segments featuring - you guessed it - Madonna and Missy Elliott.
Also on Monday, you can catch a sneak peak of the campaign on The Today Show and Entertainment Tonight (check local listings for times). The spots launch on July 30. Watch GapWeb on Tuesday for an in-depth look at the entire campaign.
---
Gap CD - More Information
Posted: 25 July 2003

As reported exclusively last week on Madonnalicious, CDs of the Madonna/Missy Elliott version of Into The Groove will be available to some customers at Gap.
Here is a report by SFgate.com:
Next week, when Gap Inc. introduces a CD featuring Madonna and hip-hop star Missy Elliott singing about Gap jeans - which will coincide with TV ads showing both in Gap corduroys - the San Francisco clothing chain will make a high-profile addition to a trend widely embraced in recent years.
Gap said it will give away its Madonna-Missy Elliott promotional CD to customers beginning Wednesday in its flagship store on New York's Fifth Avenue.
Other Gap stores around the world will distribute the CDs beginning Thursday, spurring one of the largest worldwide music releases so far by a clothing chain.
Neither Rock River nor Gap would say how many CDs are being made. The company also is still in discussions with Madonna about a potential cooperative promotion involving her children's book, 'The English Roses,' due Sept. 15, Gap spokeswoman Rebecca Weill said.
The two-song Madonna-Missy Elliott disc will be free with the purchase of full-priced adult jeans or corduroys, Gap said. The CD release coincides with Gap's fall advertising campaign. In a TV spot premiering next week, Madonna and Missy belt out a tune combining Madonna's 1987 hit 'Into the Groove' with her recent single 'Hollywood.'
---
Site News: Latest Picture Uploads
Posted: 25 July 2003

80 pictures have been uploaded to the Galleries - you can view these latest uploads here.
---
Q Magazine Madonna Special - Details
Posted: 24 July 2003

From Madonna.com:
UK magazine 'Q' will release a Madonna special issue in September. This will be a 148-page, full-colour glossy Q special edition completely devoted to Madonna, and on sale from 26 September.
The magazine will contain reprinted interviews from the Q archive, including the cover stories from June 1991, December 94 and March 98, reappraisals of her key albums and tours, and a rundown of the Top 20 Madonna Songs Of All Time, as voted by fans and musicians.
The magazine will have high production values and offer a comprehensive history of Madonna's work as a recording artist, and follows recent similar Q special editions for Radiohead, Led Zeppelin and Oasis.
Expected retail price for this issue is £4.99
---
She Rocks The Gap - News Bits
Posted: 24 July 2003

US Weekly reports that Madonna's 30-second TV ad for The Gap has netted her $10 million.

The world premiere of the Gap advert will be at 8pm on 28 July on VH1 in the USA.

Reuters are reporting that Maverick Films has optioned 'She Rocks,' a romantic comedy script from filmmaker Amie Steir that Amanda Peet is attached to star in and Madonna will executive produce.
---
Mirror mirror on the wall....
Posted: 23 July 2003

Here are some recent pictures of Madonna looking for home furnishings in Los Angeles.
---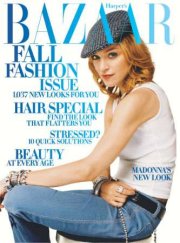 Harpers Bazaar Cover
Posted: 22 July 2003

From USA Today:
The fashion world embraces Madonna's cutting-edge style in the September issue of Harper's Bazaar, which features a cover shot of the back-to-blond singer in a less-than-edgy look: Blue cords, white tank top and a cap.
The cover was shot in L.A. on June 24, the same day Madonna and Missy Elliott posed for their joint print and TV ads for the Gap.
Madonna, 44, is wearing a Gap sleeveless T and Gap low-rise cropped corduroy pants. In the ads, which start appearing next week, both divas sport the initial M engraved on the back pocket of their pants.

---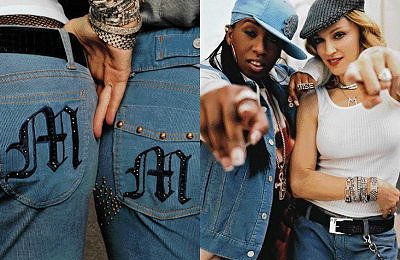 Gap Pictures
Posted: 21 July 2003

Here are the first pictures from the forthcoming Gap advertising campaign featuring Madonna and Missy Elliott.

---
Madonna and Guy at The Ivy
Posted: 19 July 2003

Madonna and Guy visited The Ivy restaurant in Los Angeles this week.
---
Get Into The Gap
Posted: 17 July 2003

A Gap insider has said the music featured in the forthcoming Madonna/Missy Elliot advert will be available on a CD instore for customers to pick up when they make a purchase.
It will probably be available when the campaign is launched at the end of this month.
---
Site News: Latest Picture Uploads
Posted: 17 July 2003

88 pictures have been uploaded to the Galleries - you can view these latest uploads here.
---
In Full Bloom....
Posted: 16 July 2003

This is a promotional poster for Madonna's forthcoming children's book, The English Roses which is due for release on 15 September 2003.

---
Madonna in Los Angeles
Posted: 16 July 2003

Here are some recent pictures of Madonna in Los Angeles, that are featured in the new issue of OK! magazine.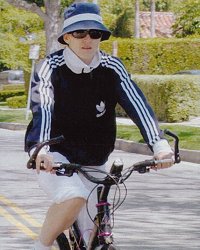 ---
Madonna roasts MTV's Carson Daly
Posted: 15 July 2003

Madonna took part in the roasting of MTV presenter Carson Daly.
In a videotaped skit Madonna opened some MTV boxes and took out pictures of Carson's supposed ex-girlfriends.
She pulled out pictures of Demi Moore, Anna-Nicole Smith, Kelly and Sharon Osbourne, Pop-Idol host Ryan Seacrest and even herself!
---
We Are Family!
Posted: 15 July 2003

Channel 4 chat show presenters, Richard and Judy told Celine Dion (chatting via satellite ) of her historical family link to Madonna.
Judy said to Celine: 'Do you know one of our British magazines found out that one of your female relatives and one of Madonnas male relatives got together in the 16th century?'
Celine replied: 'Really I didn't know this, I love Madonna and I have met her several times. She is a hard working woman and a great Mother. Lets give her a call and I can sing 'We are Family!'

Thanks to Sharon for this story.
---
Hollywood highest new entry in the UK single chart
Posted: 13 July 2003

Madonna's latest single, Hollywood, entered the UK singles chart tonight as the highest new entry at number two.
She was kept off the top spot by Beyonce Knowles, but beat new entries by Pink, Javine, Eminem, Kym Marsh, Blur and Kraftwerk.
---
Gap to promote The English Roses?
Posted: 13 July 2003

From the San Francisco Chronicle:
Gap Inc., the world's largest clothing retailer, and Madonna, the notorious 'material girl' and chameleon personality of song and screen, have joined forces to create Gap's multimillion-dollar fall advertising campaign.
The newspaper, magazine and TV campaign is scheduled to run eight weeks, beginning July 27. And this year, Madonna will headline, along with Grammy- winning rapper/producer Missy 'Misdemeanor' Elliott, Gap Inc. has confirmed.
That's not all. Madonna and Gap are poised to co-promote not just Gap's clothes but also her new children's book.
The superstar mother of two has penned what is to be the first in a series of five books. According to publisher Callaway Editions Inc., it's due for release in 42 languages and 100 countries on Sept. 15, which fits nicely into the second half of Gap's fall ad campaign.
And so it all falls together - mass retail, superstar, book publicity - maybe.
'We are in preliminary discussions with Madonna on her new book,' Gap spokeswoman Claudia Hawkins told The Chronicle.
What's being discussed is a 'cooperative promotion' involving Gap, Madonna and her new book, 'The English Roses,' about which Gap will share details later this month, Hawkins said. 'The English Roses' - unlike Madonna's adults-only 1992 volume 'Sex' - has been described as a children's morality tale based on the mystical Hebrew texts of the Kabbalah, of which Madonna reportedly is a student.
Given Gap's confirmation of the negotiations with Madonna, it isn't a stretch to envision the book beside cash registers where shoppers buy Gap striped hoodies and toddler cargo pants for the little ones in their lives.

To read the full article, including advertising insiders views, click here.
---
And the next video director is....
Posted: 11 July 2003

Rob at MadonnaMad has exclusively reported that the next video from Madonna's album American Life will be shot soon, and will be directed by Steven Klein - the photographer of the W magazine portfolio. No news yet on which song it will be though....although Madonna herself has said she would love Nothing Fails to be the next single.
---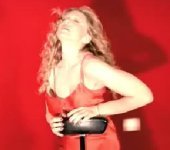 Hollywood Remix Video Online
Posted: 09 July 2003

VH1 are streaming a remix version of the Hollywood video.
The video features scenes not previously seen.
To view the video click here.

---
W magazine was a top-seller!
Posted: 09 July 2003

Industry figures are reporting that the April 2003 issue of W magazine, featuring the 44-page Steven Klein portfolio, sold an amazing 83,000 copies.
The magazine also received heavy media attention during March for the innovative shoot, and one picture is now featuring on the cover of Madonna's latest single, Hollywood.

---
Site News: Latest Picture Uploads
Posted: 08 July 2003

80 pictures have been uploaded to the Galleries - you can view these latest uploads here.
---
Out and about in Los Angeles
Posted: 08 July 2003

Here are some more recent pictures of Madonna in Los Angeles.

---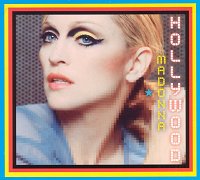 Hollywood in UK midweeks
Posted: 08 July 2003

Here are the midweek sales figures for singles in the UK (Thanks to Floris) - Keep buying!

1 Beyonce - 13079
2 Madonna - 8231
3 Evanescence - 4920
4 Pink - 4565
5 Javine - 4339

---
Site News: Avatars
Posted: 07 July 2003

There are another 42 animated avatars from the Hollywood video to choose from here.
---
Hollywood review
Posted: 06 July 2003

From dotmusic.com:
Many critics were too preoccupied panning Madge's latest LP 'American Life' to acknowledge the existence of 'Hollywood'. The stampede to pronounce the reign of the Queen of Pop officially over seems to be a touch premature taking this single as evidence.
Because, out of the context of the album, 'Hollywood' breaks free of its inferior siblings to strike out as a sexy sliver of dance pop that's as good as anything on 'Music'.
Aside from being the best thing on the album, it has enough bite to question the lifestyles of certain LA residents and most interestingly, the gutlessness of radio stations. Who said Madonna had lost her voice?
8/10 Reviewed by Chris Heath.
---
GAP, Estee Lauder and a Rolling Stone
Posted: 03 July 2003

The GAP commercial featuring Madonna and Missy Elliot and the Hollywood vs Into the Groove remix will hit TV stations on 01 August 2003.

There is going to be an Estee Lauder advert that will run for a whole year and will feature the song Love Profusion in the background.

The issue of Rolling Stone magazine featuring Madonna on the cover is pushed back to October.

Thanks to Rob at MadonnaMad for the news.
---
Latest Los Angeles Pictures
Posted: 03 July 2003

Here are the latest pictures taken yesterday of Madonna shopping in Los Angeles.
---
Site News: Latest Picture Uploads
Posted: 02 July 2003

80 pictures have been uploaded to the Galleries - you can view these latest uploads here.
---
Hollywood - Making The Video on MTV UK Tonight
Posted: 02 July 2003

MTV UK is showing Hollywood - Making The Video tonight at 09:00pm and tomorrow at 06:30pm.
---
You silly plucker!
Posted: 02 July 2003

From OK! magazine:
Who ever knew that the world of eyebrow-shaping could be so cut-throat? But Madonna takes these things very seriously and is said to be furious that an 'eyebrow specialist' in Los Angeles has been running around telling everyone that's he's responsible for tweezing her into shape.
Us Weekly says the singer's lawyers have repeatedly told Damone Roberts to stop saying Madge is his client just because he attended to her brows once 'about three years ago'.
The singer actually favours the services of Anastacia of Beverly Hills, but in the most recent issue of Allure magazine, Robert's says that he'll make house calls especially for the singer.
'If Roberts keeps saying he does her brows, some action will have to be taken,' says a peeved insider.
Whether or not this means legal action is unclear, but Roberts would be a very silly plucker to get on the wrong side of Madonna.
---
Commercial Life
Posted: 01 July 2003

From MTV.com:
Despite eschewing commercialism for her latest album, American Life, Madonna is about to be very commercial for her new single, 'Hollywood.'
The Material Girl has just signed up with the Gap to do a TV ad for their corduroy jeans line, which would also feature Missy Elliott. The concept is to have Madonna sing 'Hollywood,' while Missy would do a rap interpretation of Madge's 'Into the Groove.'
Details weren't available about the shoot, but Gap traditionally shoots their fall ad campaigns at the beginning of July.
---
Is anyone out there?
Posted: 01 July 2003

UK magazine heat, have published this recent picture of Madonna peeking out from behind the door at The Kabbalah Center in Los Angeles.

Click on the picture to enlarge.

---