---
News Archive: March 2003
---
American Life video premieres
Posted: 31 March 2003

The American Life video premiered in Germany today. The video-captures below are from Drowned Madonna Village - please visit their site for larger versions of all the pictures.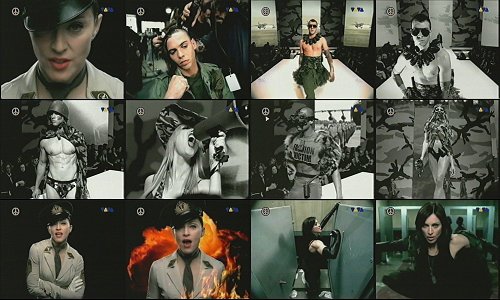 ---
More news on Will and Grace
Posted: 29 March 2003

From The Dish!
Madonna plays a low-level music-executive whose randy ways can't stop her from hitting on the same hunk that Megan Mullally's character Karen Walker also wants to 'de-flower' at a disco.
'Everybody dance y'all....' will blast as they go toe-to-toe on the dance floor, trying to outdo each other to win the poor sap's affections.
He so freaks out at the sight of these two writhing about like a couple of cats on heat that he flees the scene!
---
Madonna video ends with image of 'President' Bush with grenade in his lap
Posted: 29 March 2003

From The Drudge Report:
A final shock scene in the video of recording artist Madonna's upcoming release - is that of the singer throwing a grenade in the lap of President Bush!
'It is not me being anti-Bush, it's me being ironic and tongue in cheek,' Madonna explains to NBC's Access Hollywood this weekend.
'My kind of wish for peace and my desire to sort of turn a weapon of destruction, which is a grenade, into something that is completely innocuous.'
Madonna uses a Bush look-alike in the final scene of American Life. The 'president' picks up the lit grenade that Madonna throws - and lights his cigar with it!
The image is 'my wish to find an alternative to violence to war and destruction,' the singer says.
---
Q Magazine - Madonna Interview
Posted: 28 March 2003

The May 2003 issue of the UK music magazine Q features Madonna on the cover and a total of 8 pages inside featuring an interview by Paul Rees and photographs by Craig McDean.
The magazine also features a full-page advert for the single and album release of American Life.
Madonna talks frankly about her life at the moment, including her thoughts on living in London, 'I love my Mini Cooper, I was too scared to drive a big car in London, the roads are too narrow and I'm always afraid I'm going to hit people on both sides.'
The magazine also gives some hints of the new songs on her album, A gospel choir arrives out of nowhere to propel the dreamy ballad Nothing Fails to a rousing climax, the stripped down Nobody Knows Me erupts in a barrage of electronic effects.
A full-page is also dedicated to Madonna's single releases during her 20-year career, and a mini-review accompanies each song.

To read the transcript of the interview click here.

High quality pictures are available in the 2003 Gallery.
---
Will and Grace - On-Set Pictures
Posted: 27 March 2003

From Entertainment Tonight Online!:
When it comes to material girls, Will & Grace's Karen (Megan Mullally) tops the list -- that is until she meets the original. Brace yourself as Madonna gets into the groove as a guest star on an upcoming episode of NBC's Must-See TV sitcom.
In an episode that mostly likely will air this May, Karen meets Liz (Madonna), a peculiar yet high-maintenance office worker, and the two discover that they have a great deal in common, including their taste in the opposite sex. Karen has been through a lot since divorcing Stan, and while the two gals don't wind up being roommates (Karen's search for a roomie is how they meet), Liz does rock Karen's world in the 'Dolls & Dolls' episode.
---
Swept Away - Deleted Scenes
Posted: 25 March 2003

The 29 March-04 April issue of heat magazine, shows pictures of several deleted scenes which are featured in the forthcoming DVD release of Swept Away in the UK on 05 May 2003.
DVD viewers will get to see Madonna romping on a beach with her naked co-star Adriano Giannini and in another shot she has her legs wide open while lying on the floor.
The scene that's changed most from the cinema release of Swept Away now features a fully nude Madge lying on the sand - but she has nothing to be embarrassed about as her yoga regime and macrobiotic diet has kept her body in great shape.
---
W Magazine - Wallpapers
Posted: 23 March 2003

Madonnalicious has fifteen new wallpapers from W Magazine, click here to view them.
---
W Magazine - Full 44-page portfolio online
Posted: 23 March 2003 *EXCLUSIVE*

You can now view the whole of Steven Klein's portfolio from the April 2003 issue of W.
Madonnalicious has scanned the magazine so you can view the full picture as Madonna and Steven Klein intended, for examples see the pictures below.

Click here to view the portfolio.
Thanks to Josh for sending me the copy of W all the way from New York!
---
NME's American Strife
Posted: 20 March 2003

The 22 March 2003 issue of the UK music paper NME features a full-page article on Madonna's 20-year career, and gives a small review of her new single. To read the excellent article by Alex Needham, click on the image to enlarge. Here are some highlights:
....her new single, 'American Life' is a magnificently addictive confection of glitchy techno and creamy pop with a daft comedy rap on the end. Then there's the video, which starts as a fashion show and ends in hand grenade, dead baby-strewn carnage. At a time when anti-war sentiment, particularly in the US is unwelcome, 'American Life' shows that Madonna's balls are steelier than the rest.
....she doesn't have to put herself through the pop mill now, let alone antagonise half her own continent. She does it because she is, in the end, an artist. An artist who's brought the most avant garde ideas and influences into the mainstream since The Beatles and transformed the landscape of pop culture for good.
---
heat apologise over Madonna's 'pregnancy'
Posted: 17 March 2003

Following on from Madonna's complaint in February to the Press Complaints Commission over a story heat magazine ran stating that Madonna was pregnant.
Here is what heat had to say:
Madonna's representatives have told us, contrary to our report in the 08 February issue, she is not pregnant. We are happy to set the record straight.
---
Madonna's stolen bicycle inspires Guy
Posted: 16 March 2003

The Sunday Express tells the story behind Guy's new TV show Swag:
The theft of Madonna's bicycle has inspired her husband Guy Ritchie to make a TV crime show set to make the couple millions. Madonna and Guy were furious when her £600 bike was stolen from outside their London home last summer.
But movie director Guy then hit on the idea of making a television show that tempts people to commit crimes and catches them red-handed on hidden cameras.
Now, even before the eight-part series called Swag has been screened in Britain, TV networks in America, France, Germany and Japan are so convinced it will be a ratings winner that they are preparing to buy the format from Guy's production company Ska Films.
A source at Channel Five, which will screen Swag from next Sunday, said: 'Guy was fizzing with anger when Madonna's bike was stolen. They didn't get it back, but suddenly he had this idea to turn the tables on petty thieves using television. Bizarrely, the bike theft is now going to make him and Madonna a lot of money.'

---
UK release date for Swept Away DVD
Posted: 14 March 2003

The Swept Away DVD has a release date of 05 May 2003 in the UK.
---
Site News: Latest Picture Uploads
Posted: 14 March 2003

112 pictures have been uploaded to the Galleries - you can view these latest uploads here.
---
The Latest Look
Posted: 14 March 2003

This picture was first published at fansite Madonnarama and shows Madonna's dramatic new look in a photoshoot by Craig McDean.

This photoshoot will appear in next month's Q magazine.

---
W Magazine - Best quality picture yet
Posted: 11 March 2003

Here is the best quality scan Madonnalicious has so far of a W Magazine portfolio picture by Steven Klein.

---
W Magazine - Entertainment Tonight
Posted: 11 March 2003

Last night the US TV show, Entertainment Tonight showed more pictures from the W Magazine portfolio.

A selection of the pictures are shown below. Thanks to DerrickD for the screen captures.
---
Madonna Unbound - W Magazine preview
Posted: 08 March 2003

US TV program Entertainment Tonight showed a preview of Madonna's forthcoming 44-page spread in the April issue of W Magazine.

Below are screen captures showing her image for the spread, thanks to DerrickD at the MadonnaMad Forum for the captures.
---
A League Of His Own
Posted: 07 March 2003

From IMDB.com:
Pop superstar Madonna is blaming her black eye on an accidental crack from son's baseball bat - laughing off reports she and husband Guy Ritchie were involved in a violent fracas.
The Material Girl claims her son Rocco was given the bat for his second birthday, and has developed a confident swing. A family friend says, 'His mom is keen to encourage his natural ability and she pitches up balls to Rocco in the yard every afternoon. Nine times out of 10 he hits them, but this time, he lost control of the bat and whacked Madonna in the eye.'
---
Drinking soy latte - new picture
Posted: 07 March 2003

Here's the latest picture of Madonna, taken from the new issue of US magazine.
Thanks to Jamie for sending Madonnalicious the scan.

Click on the image to enlarge.

---
Madonna and Guy climbing up the money charts
Posted: 02 March 2003

Madonna and Guy have climbed the Daily Mail Rich Report (a look at the Top 300 British Millionaires) - last year the couple were at number 172 with earnings of £180m, this year they have climbed to 150th with joint earnings of £210m.
Here is what the Daily Mail have to say about the Dance music diva and her film director husband:
Like Pierce Brosnan in the latest Bond film, Madonna is planning to Die Another Day. She is putting the box office disaster Swept Away, directed by British husband Guy Ritchie, and her slated performance in the West End production Up For Grabs, firmly behind her.
With her title track for the Bond film giving Madonna her 44th Top 40 US hit, nobody can deny that the Queen of Pop still reigns. Her earnings for the year were £27m. And the year before she made £14m in a deal with Microsoft which used her rapid dance track Ray Of Light to launch it's Windows XP software.
With the proceeds from the 150m albums she has sold, Madonna is worth £200m. At 44, she is easily rich enough to spend £9m on a 1,200-acre shooting estate for Guy (and then change her mind about letting him shoot there).
But after three years in the UK, Madonna, now pregnant with her third child, has headed back to the sunnier climbs of LA.
However the mobve is only temporary and her agent is adamant she will return to her London home in a few months. With Guy, 34, she is worth £210m.
---
Material Girl and Guy
Posted: 02 March 2003

The UK edition of the National Enquirer (March 11 2003 issue) has a two-page feature on Madonna and Guy's spending habits.
---
Wham Bam Van Damme rips into Madonna
Posted: 02 March 2003

Jean Claude Van Damme has ripped into the many celebrities that are taking an anti-war stance, he had this to say about Madonna in an interview with the National Enquirer:
He is particulary incensed with Madonna. The Material Girl's latest video spouts a atrong anti-war message, showing her dressed in military fatigues and throwing grenades in a landscape of bloody babies and limbless adults.
'To use George Bush and the Iraqi people as a publicity stunt is disgusting' he blasts.
'She should realise that in the Middle East they think of her as less than human - she'd be stoned to death there. So why is she defending them?'
He also rips into Martin Sheen, Sean Penn, George Clooney, Richard Gere for their anti-war stance, and critical views on George W. Bush.
---