---
News Archive: May 2002
---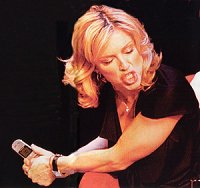 Another photograph from Up For Grabs
Posted: 28 May 2002

This weeks heat magazine (01-07 June 2002 issue) has a new picture of Madonna on-stage in Up For Grabs.

---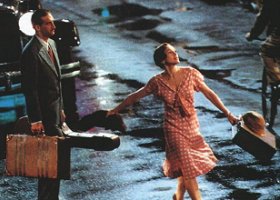 Screaming matches and Prada Organisers
Posted: 27 May 2002

The British actor Jimmy Nail who played Augustin Magaldi in the film Evita has spoken about working with Madonna. The following text is taken from Now magazine (29 May 2002 issue).

After landing the role, in which he would have to bed Madonna, Jimmy said: 'It's a dirty job, but somebody's got to do it.'
Jimmy admitted that he and Madonna has some screaming matches at the start of filming. 'Things were pretty tense at the beginning,' he said. 'Madonna was under enormous pressure to prove herself.'
'Fortunately the bed scene came right at the end of the film so by then we had got to know each other pretty well. It went off without a hitch.'
By the end of shooting, Madonna and Jimmy had become good friends, but obviously never got on the same wavelength as Madonna gave him a Prada personal organiser as a parting gift.

---
Madonna's a great kisser, says a girl who should know
Posted: 25 May 2002

From The Daily Express:
Madonna's raunchy on-stage kiss with a woman in her West End debut has left audiences blushing - but not her female co-star.
Megan Dodds, who plays a bisexual in Up For Grabs, says the Queen of Pop is a "great kisser".
When asked what it is like to kiss Madonna, Megan replied "She's really good. She's great actually"".
"I was a bit nervous about the kissing scene but it makes it easier that we get along well".
She continued: "It's really good working with her. She's amazing. She doesn't act any different or expect special treatment. She's just normal".
"It's a really wonderful play to be working on and the cast are all brilliant. I'm really enjoying it".
---
Loo's That Girl
Posted: 25 May 2002

From Daily Mirror's 3am Girls:
There we were, innocently powdering our noses in the bathroom at San Lorenzo in Knightsbridge, when we witnessed an extraordinary scene between Madge and her fashion-designer friend Stella McCartney.
While the rest of the world's media were desperately trying to track down the star after her West End debut on Thursday night, we were sipping champagne at the next table.
But it was when we came face to face with the pair in the toilets that things started to get interesting.
As we entered the ladies' room in Mrs Ritchie's favourite London restaurant, there she was, standing with her back to the mirror, chatting away.
But it was when we saw who she was nattering to that we got something of a fright.
For Stella was sat on the loo with the door wide open, revealing her G-string - albeit a gorgeous lacy number - around her ankles.
Spying us, an embarrassed Madonna muttered: "I'm ever so sorry about her, it's a thing that she does. We always have a girlie chat and take a pee with the door open."
....And with that, the pair wandered back to their table and tucked into pasta and drank champagne.
They were joined at their private dinner to celebrate Madonna's role in Up For Grabs, by hubby Guy and friends including Gwyneth Paltrow, Sting, Trudie Styler, designers Donatella Versace, Tom Ford of Gucci and Valentino.
After the meal Madonna gave a lovely speech thanking everyone involved in the stage production, which drew rapturous applause.
As she left the restaurant at 1.30am the ecstatic singer marched over to our table and giggled again as she said: "Once again I'm very sorry about the whole toilet door being open thing. Have a good night."
Don't worry Madge, we did.
---
Ma Ritchie Speaks
Posted: 25 May 2002

From www.ananova.com
Madonna has received her mother-in-law's seal of approval after the first night of her raunchy play.
Shireen Ritchie said Up For Grabs was not gratuitous and praised as "great" Madonna's performance as an art dealer who has lesbian sex with a millionairess.
Mrs Ritchie chairs Kensington and Chelsea Conservative Association.
She said of the sex scenes: "It fitted in very well and there wasn't anything that was overt actually on the stage."
On GMTV after the opening night at London's Wyndhams Theatre, she added: "I thought she was great. I really enjoyed the evening. It was a great atmosphere there.

LittleStar took these exclusive screenshots of Shireen Ritchie talking on GMTV.
The presenter also asked Shireen if Madonna did the washing-up after Sunday lunch. Mrs Ritchie carefully avoided answering the question by saying that "Sunday lunches don't really happen".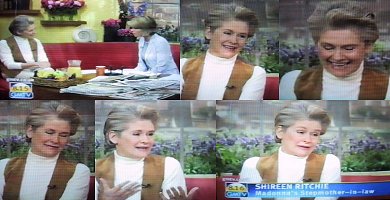 Here are some more screenshots from the GMTV package from the opening night, it features the author David Williamson talking about working with Madonna, and shows a proud Guy Ritchie applauding from the Royal Circle.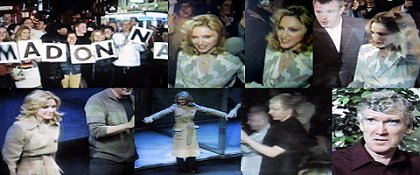 ---
Last night's Up For Grabs grinds to a halt!
Posted: 25 May 2002

LittleStar was in the front row at last nights performance of Up For Grabs when a technical hitch caused the moving stage-set to grind to a halt about 15 minutes into the play.
It was at the start of a scene between Madonna's character Loren and her stage husband Tom Irwin. As the scenery began to move to become Loren's apartment a dreadful crunching sound could be heard as the set ground to a halt.
Madonna and Tom Irwin managed to carry on the scene at the front of the stage without appearing to be affected at all. After that scene was completed the curtain came down and a 10 minute interval was called while the scenery was fixed.
When the cast returned after the break, the play continued with no more problems.
---
Up For Grabs reviews from the UK Press
Posted: 25 May 2002

Here are some links to reviews of Up For Grabs from a selection of the UK press:

Daily Telegraph Evening Standard The Guardian The Independent The Times
---
Pictures from today's UK Press
Posted: 24 May 2002

The following pictures are from the UK newspapers, Daily Telegraph, The Guardian, Daily Mirror and Evening Standard. All these pictures were featured in reviews from last night's opening of Up For Grabs.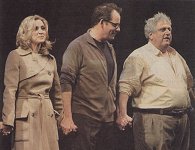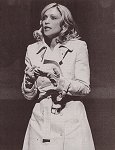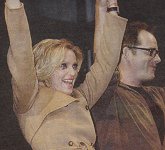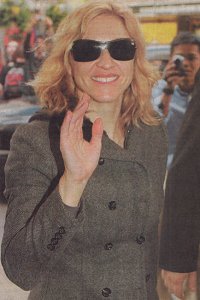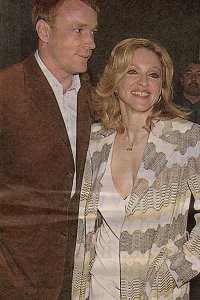 ---
More on-stage pictures from Up For Grabs
Posted: 23 May 2002

From www.ananova.com and www.bbc.co.uk - Madonna with Tom Irwin in Up For Grabs.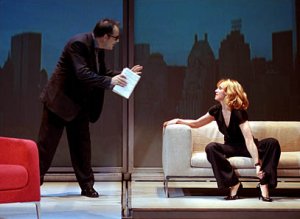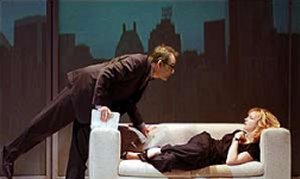 ---
On-stage picture from Up For Grabs
Posted: 23 May 2002

From Yahoo.com:
Madonna, left, as Loren with Michael Lerner as Manny, and Debora Weston as Phyllis, are seen in 'Up For Grabs' at the Wyndham's Theatre in London. The play by Australian David Williamson and directed by Laurence Boswell highlights an art dealers deception of friends and colleagues.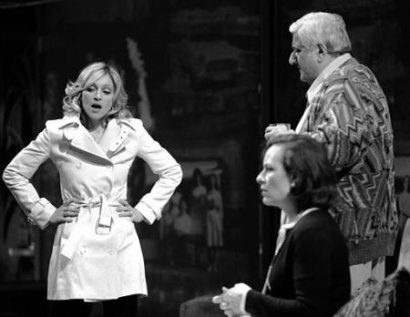 ---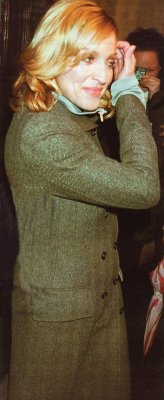 Another Up For Grabs review
Posted: 22 May 2002

The 25-31 May issue of heat magazine has a two-page review of Up For Grabs and also features a new picture of Madonna leaving the theatre on the first night.
Here are some selected quotes from the review:

When Madonna makes a foray into anything other than music all eys are on her, waiting to see if she'll muck it up. So the whole world was watching when she made her debut performance on the West End stage.
....from the moment the curtain rose to reveal Mrs Ritchie standing before us, a pair of razor-sharp stilettos on her feet and a faint smile across her lips, she had us in the palm of her hand.
....Madonna's character Loren's determination that one day "I'm going to have a lifestyle the world will envy!" must also have struck a chord with the wannabe who went on to become the most famous woman on the planet.
It seems first night nerves took their toil though. Madge's opening speech was almost inaudible, and she fumbled her lines more than once. And - dare we say it - she might be a little too old to be convincing as an inexperienced, sexually naive minnow who's out of her depth in a world of super-rich sharks. But she lacks in conviction she more than makes up in charisma - her arguments with her psychiatrist husband have an uncomfortable ring of truth.
....The curious thing is, you go to watch the icon and come away impressed by the actress. Her pal Gwyneth may have won the Oscar, but on this evidence it's Madge who'll be getting the glory this time.

---
Up For Grabs program online
Posted: 19 May 2002

The Up For Grabs program which is only available to buy at the Wyndhams Theatre is now available online here.
---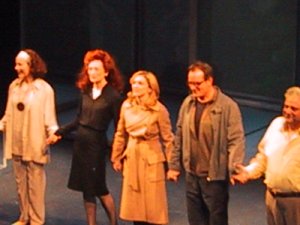 Last Nights Curtain Call
Posted: 19 May 2002

LittleStar attended last nights performance of Up For Grabs and snatched this small photograph of the curtain call.

Madonna gave an excellent performance and no signs of the nerves seen in her earlier performances were seen.

---
First pictures of Up For Grabs
Posted: 14 May 2002

Tonights London Evening Standard newspaper, featured Madonna on it's cover and had a full page "review" of the first preview night of Up For Grabs.
The fourth picture below is of Madonna leaving the theatre after her performance, she looked stunned and gasped "Oh my God!" when beseiged by a large crowd of fans and the press.



Larger versions of the photographs, can be found in the 2002 Gallery.
---
Madonna makes her West End debut
Posted: 13 May 2002

From www.ananova.com
Madonna has made her first stage performance for 13 years.
The 43-year-old singer appeared in a preview performance of Up For Grabs at Wyndhams Theatre in her West End debut.
She last appeared on stage in 1988 in US playwright David Mamet's Speed-The-Plow on Broadway.
Madonna left the theatre by the front entrance shortly after the performance and was driven away in a waiting car.
There were screams from the crowd as she scrambled for the car and the road outside was blocked by photographers and camera crews.
Those who saw the play had mixed views on Madonna's performance, with most saying she improved in the second half once she had got over her nerves.
Victoria Bateman, 32, said she thought the pop star was "fantastic". "I thought she was a lot better than expected, she was excellent."
Malva Green, 41, said she thought the actress "put on a convincing performance". "She was nervous to start with but got a lot better."
Theatregoers with tickets and others hoping to catch any returned tickets queued down Charring Cross Road in the rain before the show.
In the play Madonna plays Simone, an ambitious art dealer whose attempts to break into the more exclusive buyers' market finds her bending the rules to get the highest bid for a Jackson Pollock picture.
---
Welcome to LittleStar - Version 2
Posted: 11 May 2002

Welcome to the new version of LittleStar - The Madonna Site.
I hope you enjoy browsing around my site - check out the brand new galleries featuring over 1200 pictures and the new section on Madonna's Record Covers.

I hope you all enjoy this updated version of LittleStar.
---
Just by chance!
Posted: 11 May 2002 LittleStar EXCLUSIVE

While LittleStar was outside the Wyndham's Theatre taking the photographs shown below in the Up 'N Ready story, who should appear but Madonna!
She arrived at 10.25am, and went into the theatre for what was probably a dress rehearsal as other members of the cast arrived later.

Here is the photograph LittleStar managed to take. I hope you enjoy.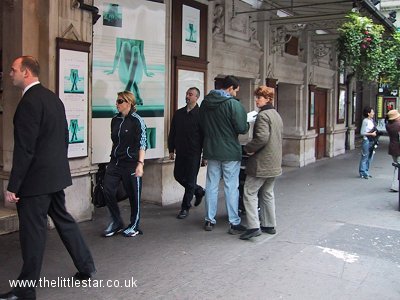 Photograph © Clare Parmenter 2002.
---
Up 'N Ready
Posted: 11 May 2002 LittleStar EXCLUSIVE

Wyndham's Theatre in London's West End is all ready for Madonna's first night of her new play on 13 May, Up For Grabs.
---
Up For Grabs publicity leaflets
Posted: 11 May 2002

Here are some high quality scans of the front and back of the leaflets promoting Madonna's forthcoming play, Up For Grabs.
The leaflets are available free outside the Wyndham's Theatre, where the play will be performed.

Click on the adverts to enlarge.

---
Battle Of The Boards
Posted: 09 May 2002

Hot Tickets magazine (free with the London newspaper, the Evening Standard) features both Madonna and Gwyneth Paltrow on the cover.
The article inside, is comparing how London will judge the West End debuts of Madonna and Gwyneth, and the article is highly biased towards Madonna.
The author, Johann Hari, asks this question at the end of the text - Londoners have a clear choice in the next few months. Do we admire the whiny American aristocrat, or the hard girl made good?

---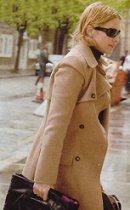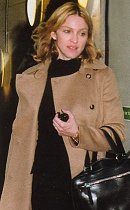 More rehearsal photographs
Posted: 08 May 2002

These photographs of Madonna arriving and leaving rehearsals on 26 April 2002 are featured in the 11-17 May issue of heat magazine.

---
The name is Madonna....Madonna Ritchie
Posted: 07 May 2002 LittleStar EXCLUSIVE

Madonna's name is already up in lights on a theatre in London - but not for her new play Up For Grabs, but for a play she has helped to finance.
Madonna made a significant donation to help stage Jesus Hopped the A Train, which is currently being shown at the Arts Theatre, Leicester Square, London.
For this donation, Madonna gets a Producer's credit featured on the billboard outside the theatre.
Note on the billboard, that Madonna is listed as Madonna Ritchie.

Click on the large image for a better view.


---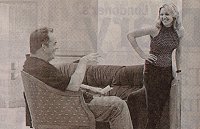 Another new rehearsal picture
Posted: 01 May 2002

The Evening Standard newspaper printed another photograph from the rehearsals of Up For Grabs.
The reporter also noted that Madonna looked relaxed and happy during rehearsals and there was no hint of the "demanding" behaviour that has been reported in some of the press recently.

---