---
News Archive: October 2002
---
The Movies, the Mafia and a Miami nightclub
Posted: 30 October 2002

From OK! magazine:
Madonna will soon be returning to cinema screens soon - only this time someone else will be playing her in the story of Liquid, the Miami nightclub.
The club was run by acquaintances of Madonna - Ingrid Casares and Chris Paciello - and that's where it gets embarassing. Paciello turned out to have had ties with the Mafia, and was implicated in the murder of a woman while he and his friends robbed her home.
He moved to Miami, reinvented himself and helped launch Liquid. Eventually he was discovered and, rather than go to prison, he volunteered to give evidence against the Mafia.
He's now sold to rights to his life story, as has Casares, and the script is being written. But just who will play Madonna?
---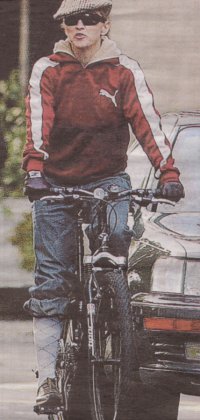 Madonna gets on her bike
Posted: 26 October 2002

Madonna settled for pedal-power to get herself around London yesterday.

She was photographed cycling back from a shopping trip in London's Mayfair.

The star's choice of clothes drew puzzled looks from fellow shoppers. She had teamed a flat-cap, rolled up jeans and long socks, with a hooded sports top and her ever present sunglasses!

This picture was published in today's Daily Mail newspaper.

---
Photography magazine
Posted: 22 October 2002

Madonna is the cover-star of the November issue of the UK magazine, Photography.

Inside the magazine the photographer Dah Len talks about how he achieved this photograph:
A large softbox was placed in front of Madonna to give even shadowless lighting, and another light fitted with a reflector dish was placed behind her, pointing upwards and towards her to give the attractive halo effect around her hair.

---
Madonna causes a mini sensation in London
Posted: 20 October 2002

Madonna was snapped yesterday as she drove into London's West End in her new Mini Cooper S. After parking in Soho, Madonna stopped at a studio to record some new album tracks.
Madonna tried to disguise herself wearing a flat-cap over her eyes, but the logo on her designer jacket gave the game away. It clearly says 'Madonna' alongside 'Baby Phat' - the name of a New York fashion firm.
---
Pictures from MTV Swept Away Special
Posted: 19 October 2002

The 19-25 October issue of heat magazine features pictures from the MTV - Making of Swept Away special program.

All pictures can be viewed in the 2002 Gallery.

---
La Chapelle Photographs
Posted: 18 October 2002

Madonna is the 'face' of choice to help promote the new exhibtion of American cult photographer David La Chapelle's photographs.
The exhibition is taking place in London's Barbican Gallery until 23 December 2002.

For more information visit the gallery website at www.barbican.org.uk/art

---
Food fight in the Ritchie household
Posted: 17 October 2002

From heat magazine:
Madonna regrets allowing Lourdes to spend time with her on the set of Swept Away. She saw co-star Adriano Giannini throw a bowl of spaghetti over her mum and now Madonna says 'She throwing food at me in the kitchen.'
---
Madonna and Lourdes attend Versace Exhibition
Posted: 14 October 2002

From Yahoo!
Madonna and Lourdes arrived tonight for the launch of an exhibition celebrating the work of Gianni Versace at the Victoria and Albert museum in London.

The exhibition opens to the public on 17 October 2002.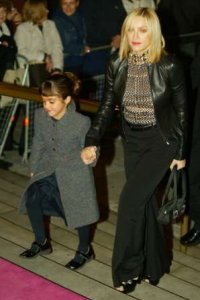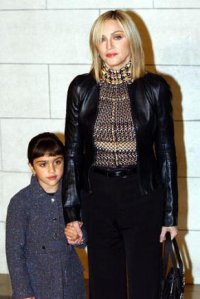 ---
Site Update: Galleries
Posted: 14 October 2002

Another 84 pictures have been uploaded to the Galleries.
---
Frock Star: Donatella speaks about Madonna
Posted: 13 October 2002

The Mail on Sunday's You magazine features an article about Donatella Versace. She talks about the women who wear versace well.
Madonna is included in this list, here is what Donatella had to say:
My favourite person in the world. her strength is her identity and her image. She changes her look as rapidly as fashion does, she has a total love of creativity and isn't afraid to take risks. She is always modern and constantly reinventing herself. She is the woman of today and tomorrow.

---
Madonna and Guy attend Swept Away screening
Posted: 09 October 2002

Last night in Los Angeles, Madonna and Guy attended a special screening of Swept Away.

Looks like Guy is following The Missus' taste in velour tracksuits!
---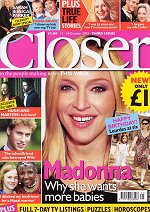 Get Closer to Madonna
Posted: 09 October 2002

New UK magazine Closer (12-18 October 2002) issue features Madonna on the cover and a four-page spread inside about Madonna's desire to have more children, and celebrating Lourdes upcoming 6th birthday.

---
Madonna and Lourdes in LA
Posted: 08 October 2002

The 12-18 October issue of heat magazine features the latest pictures of Madonna.

Madonna and Lourdes are pictured shopping on Melrose Avenue, West Hollywood on Saturday 28 September.

Large versions of all the pictures are available in the 2002 Gallery.

---
"I think he's married his mother"
Posted: 07 October 2002

Guy's mother, Amber Leighton gave an interview in The Mail on Sunday, she only briefly mentioned Madonna for fear of jeopardising the opportunities she gets to see her grandson Rocco ('a real sweetie') and his half-sister Lourdes.
As she spoke about her life she gave this explaination for why Guy may have fallen for Madonna.
My children - especially the boys - are quite uncomfortable with women. I look at Guy sometimes and think he's married his mother in some respects. I used to be as rude as Madonna can be, and that's what he knows: female iconoclastic behaviour. He wasn't going to marry some little mousy.
---
The making of Die Another Day pictures
Posted: 04 October 2002

The German MTV website www.mtv.de has just published some pictures from making of the Die Another Day video.

You can also view the 'Making of Die Another Day' video trailer at the site.

Larger versions of all the pictures are available in the 2002 Gallery.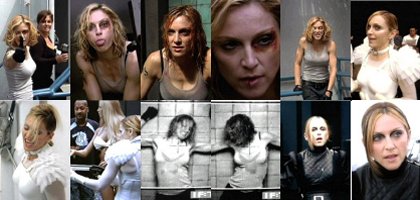 ---
Tears before bedtime?
Posted: 04 October 2002

From www.peoplenews.com
Singing, dancing, acting, directing and now writing - is there no end to the talents of the Ritchie household? Guy Ritchie and his missus, the artist normally known as Madonna, have announced that the children's books they have co-penned will be in the shops in time for Christmas. Marvellous.
But why children's books? 'We thought we'd do better to start with young fresh minds that haven't been contaminated by all the terrible things that the media bestows upon them,' explained Ritchie.
Such a statement might raise the eyebrows of certain cynics, who may wonder exactly which parts of the media Madonna - famed for using sex to sell records - and Guy - whose biggest hit glamourised East End gangeterism - might be thinking of. Let's just hope there's no tears at bedtime.
---
Die Another Day artwork and clip
Posted: 02 October 2002

The BBC website has got a clip of Madonna's new song Die Another Day and two versions of the single artwork.

Visit this link to download the clip.

---
Up For Grabs official CD artwork
Posted: 02 October 2002

Here is the artwork from the CD of the original music from Up For Grabs by Simon Bass. Click on the thumbnails to enlarge.

Here is an excerpt from the CD inlay about how Madonna helped design the sound of the music for this play:
This is a collection of the main music cues from the West End production of the play 'Up For Grabs' at the Wyndham's Theatre in 2002.
Early on, Madonna and Laurence (Boswell, the director) discussed how they heard the music for the show; from the big sounds of Loren's main theme through to the electroclash music for Kel and Mindy.




If you would like to order this limited edition CD then please email info@hansenbass.com
---
Happy Birthday LittleStar!
Posted: 01 October 2002

LittleStar - The Madonna Site is celebrating it's first birthday today!

Over the past year the site has received over 350,000 visitors and the daily number of visitors grows everyday.
The site has become much, much more than LittleStar ever expected, and this is thanks to everyone who visits this site.

Love LittleStar
---